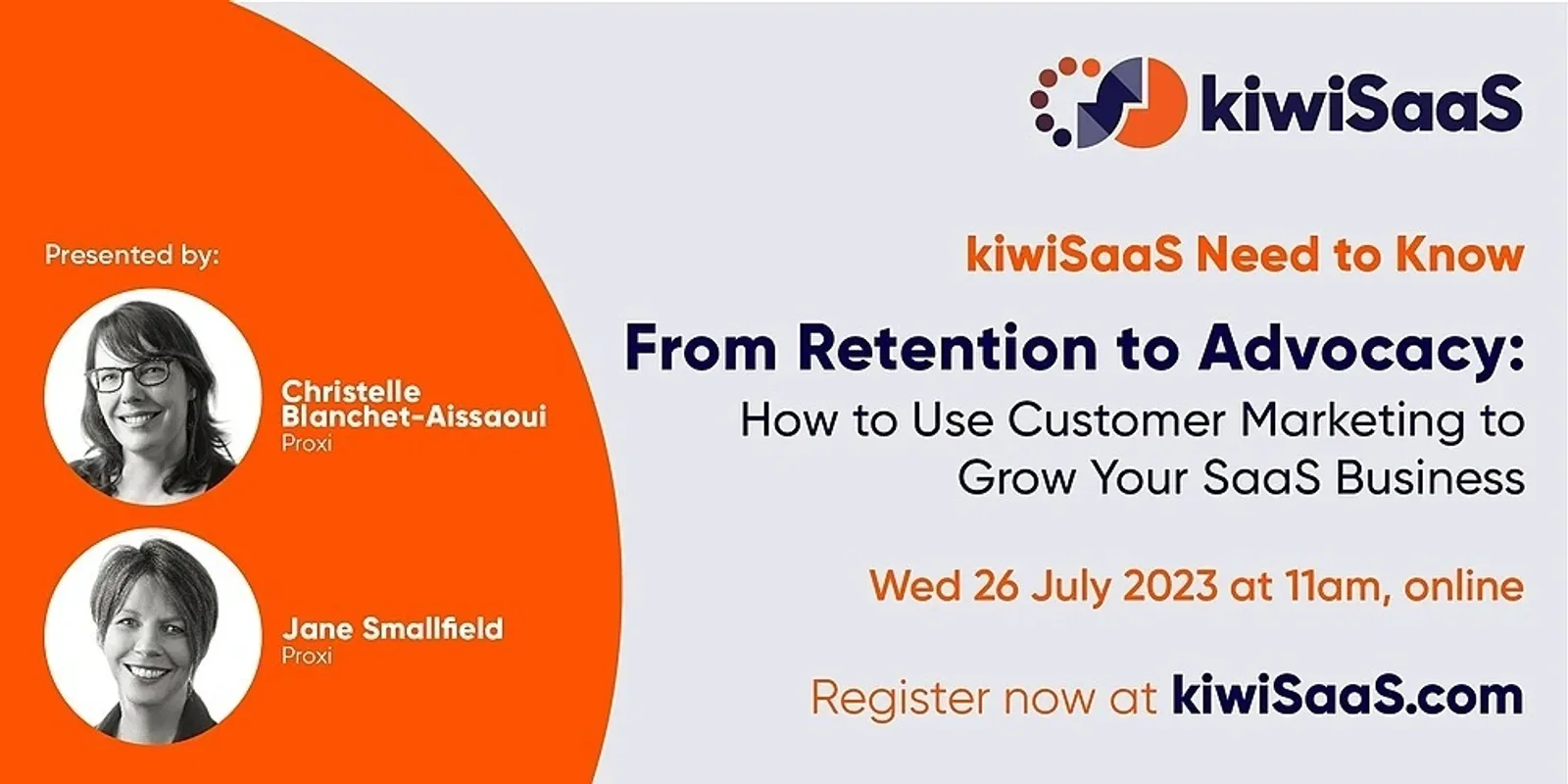 Ends in 1 min
kiwiSaaS Webinar: From Retention to Advocacy: How to Use Customer Marketing to Grow Your SaaS Business
From Retention to Advocacy: How to Use Customer Marketing to Grow Your SaaS Business Wednesday, 26 July 2023, 11.00AM - 12.00PM
Overview:
Far too often SaaS businesses put all their focus into 'top of funnel' customer acquisition and underinvest in customer retention. The customer experience doesn't end once first payment has been secured, and SaaS businesses need to build a plan that spans the entire customer lifecycle to succeed long-term. However, customer marketing often falls down a crack due to a lack of clear ownership between customer-facing functions.
Without a strong customer marketing engine, you'll likely end up with expensive churn (the classic leaky bucket) and additional pressure on the acquisition engine to keep filling the top of the funnel. And when economic conditions get tougher and your runway needs to extend out, customer marketing is more crucial than ever – it is the fuel to your SaaS engine.
Who should attend?
This webinar is a must-attend event for SaaS CEOs, marketing, sales and customer success leaders.
You will learn:
how to bring together customer success, sales, product and marketing for better alignment
how to right size your marketing approach - particularly as markets get tighter
the key ingredients to develop an effective customer communication strategy that doesn't stop at acquisition
how to foster advocacy and leverage customers for content and events
Following this session, you should be able to bring together your customer success, sales, product and marketing leaders to develop a customer marketing strategy that fuels your SaaS growth engine.
About this event
Time
Tuesday, July 25, 2023 at 11:00 PM
Register
Want to keep up-to-date?
We send out a fortnightly email with relevant events, the latest jobs and career insights from interesting and candid people.